Why Attend Our School Open Days?
Our open days are a chance to have a look around the school and get a feel for the ethos and core values which drive us to deliver the best education we can for your children.
We understand that parents have a huge amount of choice when selecting the right school for their children and we believe the best way to know if our school is right for you and your child is to experience school life first-hand. Coming to our open day will allow you to hear more about the school as well as give you an opportunity to ask questions to our pupils and staff on why they love Fountain Primary School so much.
Who Are We?
Fountain Primary School is a Controlled Primary School with a Christian Ethos where everyone is welcome! We are a small school based in the city centre and strive to provide a holistic education for all of our children. Our focus is not only on your child's academic achievements but their social and emotional well-being. We nurture our children to ensure that they are given all the tools they need to be able to learn in a caring environment.
What Makes Us Unique?
Being a smaller school, this allows us to provide a more personalised learning journey for your child. Our small class sizes allow your child to have more time with their class teacher and allows their education to be more easily tailored to their individual needs.
What To Expect
- A talk from Mr Torney (Principal)
- A tour of the school
- An opportunity to ask questions to current staff and pupils
- A chance to experience school life first-hand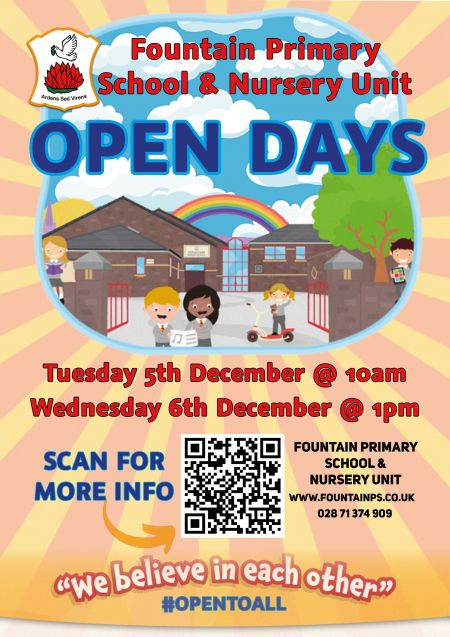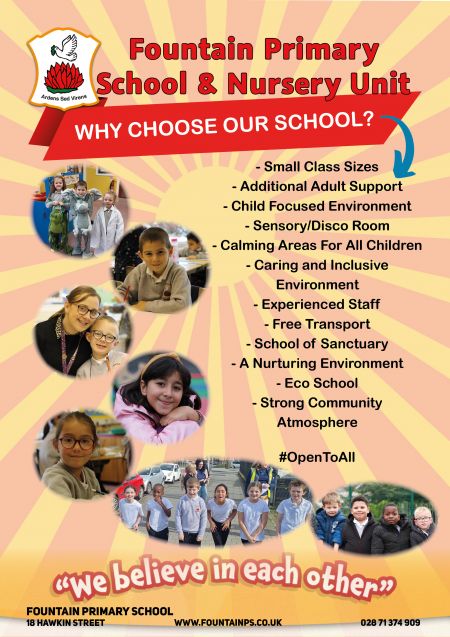 Fountain Primary School, 18 Hawkin St, Londonderry BT48 6RD Phone: 028 7137 4909